Industrial drum washing machine FORCHEM DM 40-250-1B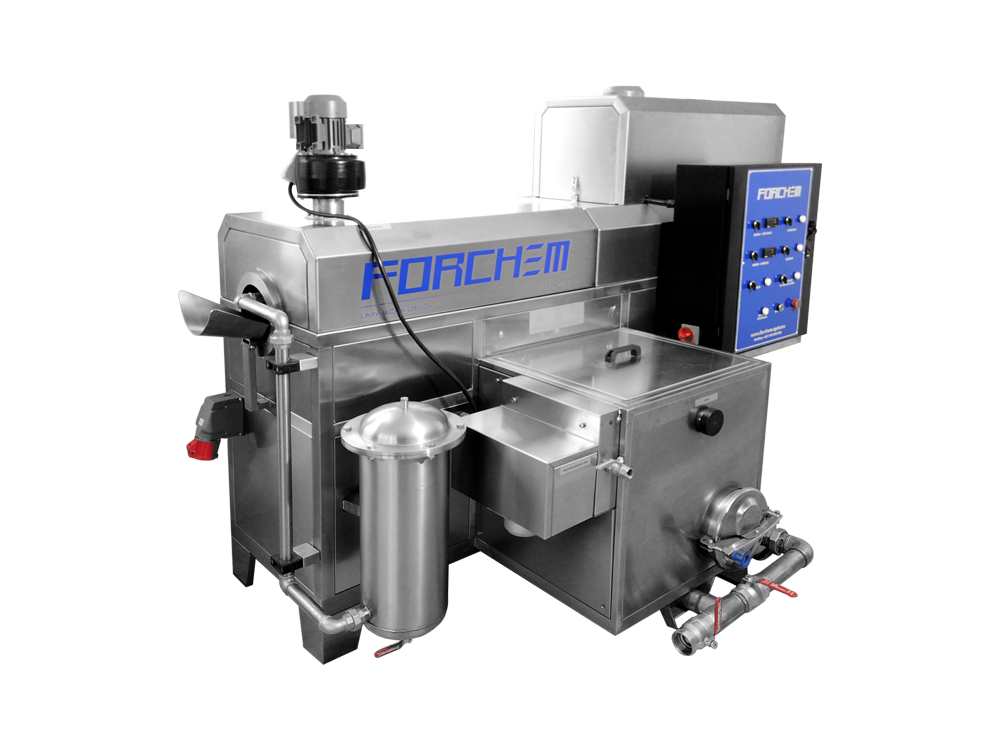 How it works:
The items to be washed are feeding through an inlet opening into the drum, which is transfered to the outlet of the device by rolling in a drum. During this process, the items are cleaned with a washing solution which is sprayed through special nozzles. When leaving the device, the items can be dried (the drying module is an optional accessory). Each item is perfectly washed and dried by moving in a spiral drum. By introducing this type of cleaning, companies will achieve maximum cost-effectiveness of spending in order to achieve the required level of cleaning.
Applications:
These washing machines are mainly used for cleaning, deburring and removing dirt from objects that, due to their small size, which cannot be placed on the rotating basket of the cabin washing machine. They can find particular application in the automotive industry for washing fasteners such as screws, nuts and other parts used in the industry. They can be also used in industries where surface treatment of the material is required prior to painting, the hydraulic industry for cleaning connecting and assembly parts also in the metalworking industry for cleaning parts after turning, milling, etc.
---
STANDARD FEATURES:
Made of AISI-304 stainless steel
AISI 304 K stainless steel tank
AISI-304 stainless steel electric pump
Electric resistance heater
Mechanically driven drum
Thermal insulation of the tank
Tank overflow protection
Double filtration
Automatic washing cycle
Emergency stop button
Digital indicator
Temperature controller
OPTIONAL ACCESSORIES:
Oil separator
Waste pump
Automatic loading of parts
Precise filtration
Application for acidic washing detergents
Extraction of steam
Automatic tank filling
Drying module
---
VIDEO DEMO
---
TECHNICAL PARAMETERS OF DM 40-250-1B

Dimensions

mm

2500x1730x1350

Diameter of washing drum

mm

400

Lenght of washing drum

mm

2000

Washing capacity

kg/h

300

Tank capacity

L

250

Time of washing

min.

0-60

Max. temperature of washing

°C

85

Pump power

kW

1,1

Heating power

kW

8,25

Washing arms (chambers)

pcs

1

Voltage

V-Hz

380-50

Total power (according to accessories)

kW

10 (27)
---
---
Photo gallery - Industrial drum washing machine FORCHEM DM 40-250-1B